Is your water everything it shouldn't be?
Culligan has the solution for many of the water problems that may impact your home. As a leader in water filtration and softening products and solutions, Culligan offers the most technologically advanced line of filtration and treatment solutions available today. Our state-of-art drinking water and working water filtration systems can solve many of the toughest water problems and give you clean, clear water for your entire home.
Learn more about the common water problems that affect your family's water.
Ask your Culligan Service Technician to analyze your water and recommend the right Culligan solution to bring you filtered, wonderful, problem-free water that you'll love.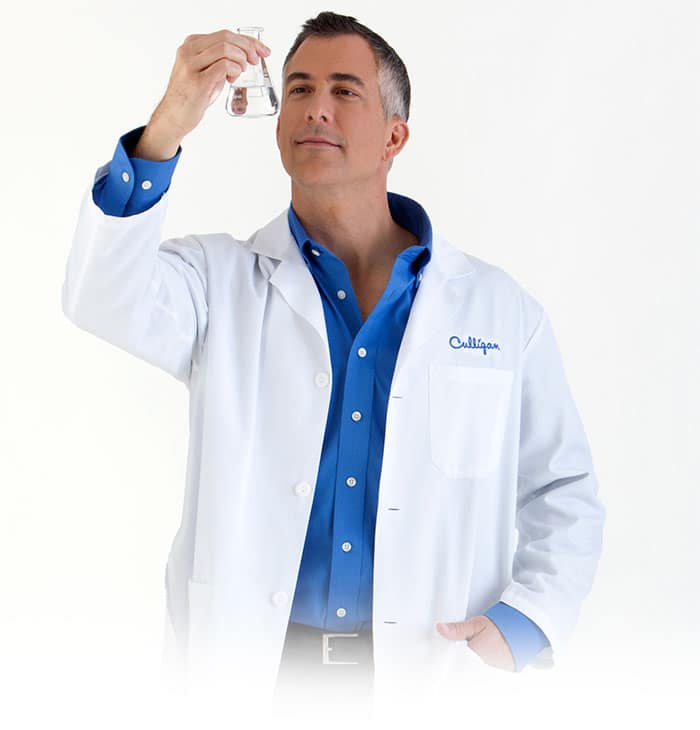 Free water analysis includes
Hardness, Iron, Sulfur, pH, TDS, Nitrates, Chlorine, Manganese and Tannins. Other tests available upon request for additional fees.*
FREE in home or business water analysis
Fill out the form below for your free water test. Your local Culligan Man will fill you in on exactly what is in your water!
TOUCH
TASTE
SMELL
LOOK
WELL WATER
TOUCH
There's nothing pleasant about living with rough, hard water. The calcium, magnesium and other minerals in hard water can be damaging to your pipes and appliances. And no amount of chemicals, scrubbing or lotions will help you avoid the affects of hard water:
Rough, dry, itchy skin
Limp, lifeless hair
Stiff, scratchy laundry
Spotty, cloudy dishes and glassware
Showers and tubs layered with soap scum
Irritated hands from scrubbing with harsh chemicals and detergents
Decreased water pressure
Fortunately, the water experts at Culligan have the right solution to bring you soft, silky, clean water throughout your house. With a Culligan soft water solution, you'll get softer, better water that will improve everything it touches:
Get cleaner sinks and faucets, tubs and showers without the harsh chemicals
Enjoy softer skin and silkier hair
Pamper yourself with more luxurious baths, showers and bubble baths
Discover how soft every load of laundry can be
Use less detergents, soaps and chemicals and save money and your hands
TASTE
SMELL
LOOK
WELL WATER